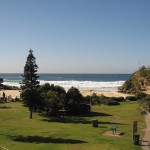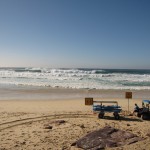 If there's one thing you have to do when you're in Australia, it's surfin'!! One of the best places to learn how to surf around Sydney is at Bondi Beach. It's only 30 minutes by train and bus from the centre of Sydney so on September 18th early morning I headed out the beach for my first lesson! When I got to the beach I started to get Serious doubts if this was a wise choice. The waves on the beach were really massive, some probably about 4-5 meters high! The shame of having to tell my collegues I chickened out finally drew me over the line and into the surf school though.. The guy behind the counter was busy on the phone and sounded apologetic. When he hung up he told me that unfortunately he had to cancel the lesson cause the currents were to strong to go out there surfing. I tried not to show, but I haven't been so relieved in a long time! 🙂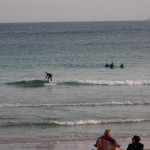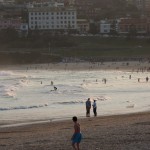 I was at Bondi anyway, now with a lot of spare time on my hands, I decided to take the very popular Bondi to Coogee Coastal Trail. The trail follows the coastline south of Bondi beach past a few nice looking beaches up to Coogee beach. Had some lunch there and then jogged back to Bondi Beach to relax a bit before taking the train to a collegue for a nice BBQ.
Before leaving the beach I took a short stroll through the shallow water to cool off. Unfortunately this turned out to be a bad idea as I was completely surprised by a sudden huge wave, drowing my ipod and camera in the process! I tried to let them dry but when I turned them on the next day they were not showing any signs of recovery. Obviously a bit bummed out, I needed something to cheer me up and the best way to do that is to buy some new gadgets! Went to the apple store in the morning and got myself an Iphone 4 and also bought a new Canon IXUS 1000 HS to replace my drowned camera.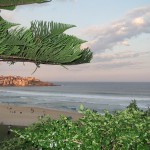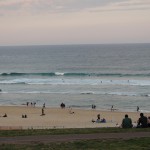 Since I still hadn't done any surfing I rebooked my lesson to today. Luckily the sea was a lot calmer this week so after jumping in my wetsuit and an excessive amount of suntan lotion we got our boards and headed out to the beach. The two instructors were to real typical surfers, very relaxed with a strange accent. They taught us some things about riptides and currents and then showed us the basics on the board. After a bit of stretching it was time to hit the ocean! Although most of us had serious trouble staying on the board it was real good fun and after getting a bit of a feel for the water we headed back to the beach to learn how to stand up. Doing this stuff on the beach is a lot easier than trying to do it whilst catching a wave but in the end I managed to stand up and surf all the way back to the beach! Maybe I'll squeeze in another lesson before I head back home…