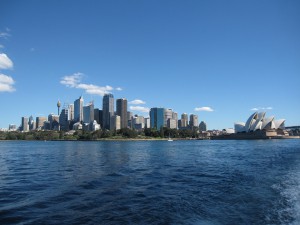 Took the ferry from Circular Quay up to Manly today. The ferry gives a great view on the opera house and the bridge so was a very enjoyable trip. After my bushwalk in the Royal National Park the day before which didn't went as expected I thought I'd give it another go. I arrived in Manly around 12:45 and quickly found the signs to the Manly Scenic Walk. It's a popular track of about 10km and follows the coast up to the Spit Bridge.
This route was a lot more accessible, has a proper stone path and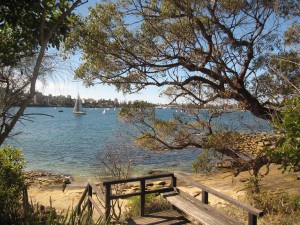 no thick bush to wade through. The route has some good views out over the water and some nice small beaches so managed to take a few nice pictures. If I would do this route again I'd probably do it on a weekday as there were many people about.
I arrived in Spit around 4pm and from there took the bus back to Manly. Had a chicken burger at a restaurant along the boulevard and then took the ferry back to Circulair Quay. When the spring really starts I'll go back to Manly to check out the beach and Surfers there, who knows maybe i'll take up a lesson myself!