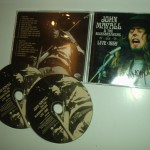 Went to see John Mayall at the Vereeniging in Nijmegen yesterday with a few collegues and it was great! We were standing in the lobby prior to the show and suddenly we noticed a short fella selling CD's, turned out to be the man himself!! Went over there to shake his hand and bought an autographed CD. The guy was very humble and even looked a bit shy..
The show started around 20:15 and after the second song Mr. Mayall joined the bluesbreakers on stage. They were really rocking although the first couple of songs were a bit rusty. 
The guitarist is one BIG badass player called Buddy Whittington. I've seen him before on the John Mayall's 70th birthday DVD and he definitely could keep up with Clapton and Mick Taylor. He has great technique without losing any feeling.
On stage John was nothing like the shy guy we saw standing in the lobby. He communicated with the audience and was very energetic. You can see that the guitar isn't John's main instrument but the moment he picked up the harmonica the people went wild… Well as wild as 60 year old people get, cause that was about the average age! Anyway, I've enjoyed the concert a lot and will definitely go and see him if he comes through Holland again.
Update: Found a clip of the concert and uploaded it for your viewing pleasure!!
[flashvideo filename=wp-content/uploads/2008/10/johnmayall.flv /]