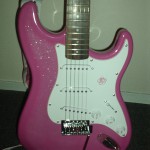 My girlfriend wanted to go shopping for shoes so we went over to Amersfoort on saturday September 27th. I heard that there was a big guitar store in Amersfoort called KeesDee so naturally I couldn't pass up on the opportunity to have a quick look. I needed a proper holder suitable for multiple guitars so that gave me a good excuse to go.
 The second we walked into the store Astrid noticed this Pink Statocaster model guitar, glitters included……….. She told me with a guitar like that she'd definitely would learn to play. I half-jokingly told her that I would buy it right now for her if she would indeed pick up the guitar. I browsed around a bit and looked at some beautiful custom made R. Taylor accoustic guitars. The salesguy was very friendly and could tell a lot about them. Even let me play on a 6500,- Euro guitar which was giving me GAS (Guitar Acquisition Syndrome) already.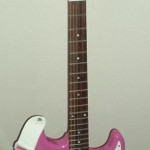 Anyway, I paid for the guitar standard and left the store. We headed for home but started talking about the Pink guitar again in the car. We agreed that I would give the guitar as a gift but she would pay me back if she wouldn't try to learn how to play. So we went back to the store and when we entered I think I saw a VERY big smile on the saleguys face, he probably thought I was going for the Taylor… 🙂 He was a good sport though and even threw in some pink picks and snares for free!!
Astrid's already able to play 'Michelle' from Anouk and 'A horse with no name'….